Tennessee Marble Company (TMC), was formed in 1993, and is a family owned 3rd generation stone company. It is managed by a staff totaling more than 100 years of experience in quarrying, fabricating, and finishing building stone. These Tennessee quarries have supplied Tennessee Marble for many of the most historic buildings in our nation's capital, and throughout North America.
Since 1993 TMC has operated multiple quarries in Tennessee which now total 6, (including the acquisition of Tennessee Valley Marble in 2007). The company utilizes 2 factories with over 125,000 square feet of production capacity on over 200 acres of marble deposits. TMC is now one of the largest fabricators of domestic marble, and the country's exclusive supplier of Tennessee marble. Leveraging the advantage of vertical integration, along with state-of-the-art equipment and technology, we offer this timeless and distinctive American stone for restoration and renovation of existing structures, as well as new construction.
Corporate Responsibility & Sustainability Statement: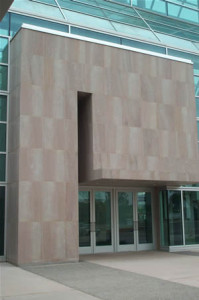 Tennessee Marble Company (TMC), extracts and manufactures high quality dimensional stone for clients throughout North America. TMC is committed to corporate responsibility that: 1) protects the safety of our employees; 2) provides LEED opportunities; and 3) recognizes the impact on the environment.
Products:
Tennessee Marble is a virtually maintenance free building product. It contains no volatile compounds, like many other building materials, and no chemicals. In addition, natural stone has a lasting durability exemplified by many of the existing buildings made of Tennessee Marble.
Manufacturing:
TMC's fabrication facilities operate on fully recycled water. Water from the quarrying process is contained on the premises with no adverse impact on existing or adjacent streams or waterways. By being a vertically integrated company, transportation loads are minimized at our facilities.
Green Building:
In 2007, TMC participated in an industry wide initiative to foster improvement in its environmental sustainability. Through the Natural Stone Council (NSC), and the NSC Sustainability Committee, TMC participated in a comparative data analysis project. Through this project, TMC and the industry were able to analyze and evaluate the environmental impacts and benefits of natural stone. The NSC provided a statement of recommended practices for the industry. This effort continues through the NSC and various trade associations of which TMC is a member.
Social Impact:
TMC is a supporter of numerous initiatives in our community. It's owners and management support the following: United Way of Blount County, Sister to Sister Program of Blount County, Blount County Education Association, Maryville City Schools Foundation, East Tennessee Economic Council, Monroe County Chamber of Commerce, Blount Partnership, Junior Achievement Blount County, and  others.
Materials and Applications:
| | |
| --- | --- |
| Materials | Applications |
| – Tennessee Pink(s)/Rose | – Tile (Various Sizes and Thicknesses) |
| – Tennessee Cedar | – Slabs |
| – Tennessee Pink Brochelle | – Pavers (Including Tumbled) |
| – Tennessee Quaker Gray | – Split-Face |
| – Vermont Verde Antique | – Custom Cut-to-Size |
| – Vermont Windham Green | – Thin Veneer |
| – Vermont Champlain Black | – Terrazzo Chips |
| – Alabama White | – Sculpting Blocks |
| – Colorado White | – Flagging |
| – Georgia White | – Fireplace Surrounds and Mantels |
| – Assorted Limestone | – Your Vision |